EXHIBITIONS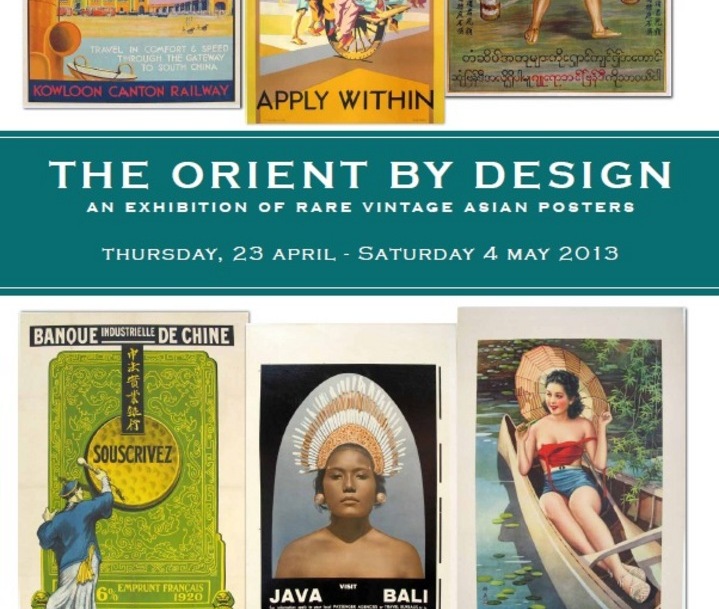 The Orient by Design - An Exhibition of Rare Asian Posters
23 April - 4 May, 2013
Hong Kong's one and only specialist vintage poster gallery, Picture This, is pleased to present "The Orient by Design". This exhibition for sale is a celebration of scarce, important and beautiful Asian travel and product advertising posters dating from 1920 to 1970.

Highlights of this exhibition include rarely seen examples of Far Eastern travel posters; among them a wonderful stone lithograph poster for the Peninsular & Orient shipping line printed in England around 1928 and boasting the company's "Luxurious Modern Steamers" of "14,500 to 17,000 tons" on which travelers can be transported to the Straits, China and Japan. The poster features a beautifully executed image of a dreamy and faraway China; where in the foreground women and children ride on a wheelbarrow pushed by a strong coolie, and in the background the local people go about their daily activities before distinctive traditional Chinese architecture.

Other highlights from this exhibition include uncommon and early railroad, shipping and airline posters issued by, among others, Hong Kong's very own Kowloon Canton Railway, the Peking Hangkow Line, South Manchuria Railway Co., Norddeutscher Lloyd Bremen, NYK Line, American President Line, the Civil Aviation Administration of China, B.O.A.C and Pan American Airways. The exhibition also features a selection of stunning vintage posters for popular destinations including Hong Kong, China, Thailand, Japan, Australia, Burma, Laos, Angkor and Japan. Seldom-seen posters advertising Banque Industrielle de Chine's bond issue in 1920 and "Chinese Master Magician" Charles Cheong's performance in Hong Kong, 1961, are also highlights of the exhibition.



PLEASE NOTE that all posters in the exhibition are immediately available for sale - please contact us to enquire or purchase.